2nd prize (1st not awarded) and 3 special prizes at "Premio Trio di Trieste" competition.
Trio Chagall has recently gained the attention of the musical milieu as a winner of the Second overall Prize (First Prize not awarded) at the 20th edition of the Premio "Trio di Trieste", where it was also given the special prizes "Dario de Rosa" for best performance of a piece by Schumann, "Fernanda Selvaggio" for best Trio of the competition and "Young award" as most promising ensemble finalist. With an average age of 20 years, the Trio is the youngest chamber group ever awarded in the history of the competition
These are only the latest in a series of successes for Trio Chagall, which include the 1st overall prize of the chamber music category at the Amadeus Factory competition (2018) – the first talent designed for young artists of the Italian Conservatories – and the numerous accomplishments at the Concorso di Giussano in 2019, where the Trio was awarded the 1st overall prize, the special prize "Il Progresso", the prize "Città di Giussano", presented to the best contestants of all the categories. Trio Chagall has become a member of Le Dimore del Quartetto since June 2019.
Trio Chagall was founded in 2013 by Lorenzo Nguyen (piano), Edoardo Grieco (violin) and Francesco Massimino (cello) within the Conservatory of Music "G.Verdi" of Turin. The name of the Trio is intended as a tribute to the famous painter Marc Chagall, who has always been a deep source of inspiration has always been admired for his ties to music and his strong expressive power through the use of colour.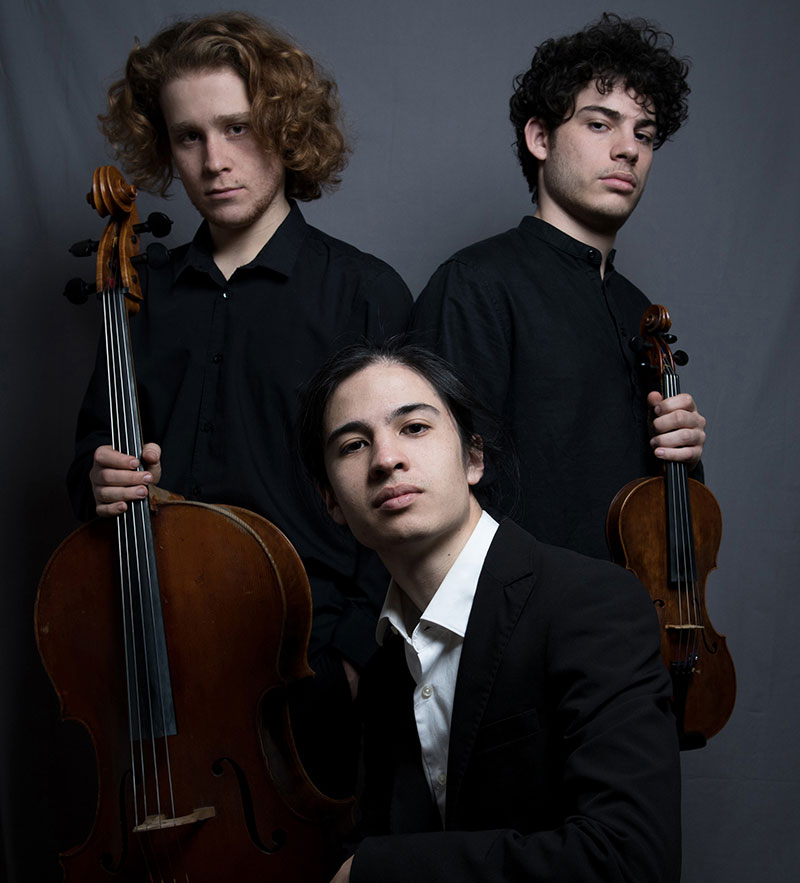 The Trio is now continuing its studies under the guidance of Antonio Valentino and the Debussy Trio and is attending the High specialisation Master's degree in chamber music with Trio di Parma and Pierpaolo Maurizzi.
In 2018 the Trio attended the summer masterclass with Trio di Parma within the Fondazione Santa Cecilia, obtaining the scholarship for best chamber music ensemble of the class.
The ensemble also receives the precious advice of Marco Zuccarini, Amiram Ganz and Christian Schuster from the Altenberg Trio Wien and Bruno Giuranna (Trio d'Archi Italiano), with whom they performed the Mozart Piano Quartet KV.493 in 2017.
In 2020 the Trio has been selected with scholarship to attend the Jeunesses Musicales International Chamber Music Campus where it receives advice of Heime Müller, Rainer Schmidt and Péter Nagy, and performs at the Tauberphilharmonie of Weikersheim.
From 2020 Trio Chagall is supported by De Sono Foundation.
Trio Chagall is involved in an intense concert activity all over Italy performing in prestigious venues (Vatican Museums in Rome, Milan Theatre dal Verme and Conservatory, Theatre Giuseppe Verdi in Trieste, Sala Sassu in Sassari) and as a guest of Unione Musicale, Società del Quartetto, Accademia Chigiana, ACM – Chamber Music of Trieste, Fondazione Perugia Musica Classica and Società Umanitaria.
Accademia Musicale Chigiana
Tuesday 24 august 2021
H 9.15 PM
Chiesa di San'Agostino, Siena
Trio Chagall e Bruno Giuranna
Bruno Giuranna, viola
Lorenzo Nguyen, pianoforte
Edoardo Grieco, violino
Francesco Massimino, violoncello
Musiche di Schubert e Strauss
30th JANUARY 2021 – Società dei Concerti La Spezia / LA SPEZIA, Sala Consiliare della provincia di La Spezia (STREAMING CONCERT)
1st MARCH 2021 – Accademia Filarmonica Romana / ROMA, Sala Alfredo Casella (STREAMING CONCERT)
15th and 16th MAY 2021 – Fondazione Walton / ISCHIA, Sala recite Giardini La Mortella
20th MAY 2021 – Filarmonica di Rovereto / ROVERETO , Sala Filarmonica
6th JUNE 2021 – Società del Quartetto di Milano / MILANO, Abbazia di Mirasole
19th JUNE 2021 – Unione Musicale di Torino / TORINO, Teatro Vittoria
24th JUNE 2021 – Monferrato Classica / ACQUI TERME, Hotel la Meridiana
26th e 28th JUNE 2021 – Musikàmera Venezia / VENEZIA, Sale Apollinee del Teatro La Fenice di Venezia
1st JULY 2021 – Musica con le Ali / ANDERMATT (Swiss), Sala Concerti Andermatt
20th e 21st JULY 2021 – Classiche Forme / LECCE, Chiostro Convitto Palmieri
24th JULY 2021 – Festival Paganiniano di Carro / RIOMAGGIORE, Castello
4th AUGUST 2021 – Associazione Chamber Music / TRIESTE, Castello di San Giusto
5th AUGUST 2021 – PIRANO (SLO)

24th AUGUST 2021 – Accademia Chigiana / SIENA
14th SEPTEMBER 2021 – Amici della Musica di Firenze / FIRENZE, Sala del Buonumore Pietro Grossi, Conservatorio "L. Cherubini"
17th SEPTEMBER 2021 – Asolo Musica / ASOLO
10th OCTOBER 2020 –  Associazione Mariani / RAVENNA, Sala Corelli del Teatro Alighieri
11tst OCTOBER 2020 – Appassionata / MACERATA, Teatro Lauro Rossi
25th OCTOBER 2020 – Società dei concerti Trieste / TRIESTE, Teatro Verdi
1st DECEMBER 2020 – Unione Musicale/ TORINO, Teatro Vittoria (SUSPENDED)
29th NOVEMBER 2020 – Società Umanitaria / MILAN, Salone degli affreschi (STREAMING CONCERT)
16th NOVEMBER 2020 – Filarmonica di Rovereto / ROVERETO (SUSPENDED)
14th NOVEMBER 2020 – Società dei Concerti La Spezia ONLUS/ LA SPEZIA, Sala Dante (SUSPENDED)
19th OCTOBER 2020 – OFT / TORINO, Teatro Vittoria
2nd OCTOBER 2020 – Amici della Musica di Firenze (FFF Festival) / FLORENCE, Sala del Buonumore del Conservatorio
19th SEPTEMBER 2020 – GIAVENO, Chiesa dei Batù
5th SEPTEMBER 2020 – Sagra Musicale Umbra / SPOLETO, Cortile di Palazzo Collicola
24th JULY 2020 – Camerata Ducale / VERCELLI, Museo Leone
22nd JULY 2020 – Unione Musicale / TURIN, Teatro Vittoria
15th JULY 2020 – Virtuoso Belcanto Festival / LUCCA, Chiostro di Santa Caterina al Real Collegio
14th JULY 2020 – Dimore del Quartetto / TORRE DEL LAGO, Villa Orlando
20th JUNE 2020 – Fondazione Cini / VENICE, Auditorium Lo Squero (SUSPENDED)
18th JUNE 2020 – Bologna Festival / BOLOGNA, Giardini dell'Archiginnasio
11th JUNE 2020 – Musica con le Ali / MILAN, Museo del Teatro alla Scala (SUSPENDED)
5th MAY 2020 – Unione Musicale / TURIN, Teatro Vittoria (SUSPENDED)
24th APRIL 2020 – LUGANO, Conservatorio della Svizzera Italiana (SUSPENDED)
18th MARCH 2020 – Trames / BAGNOLO PIEMONTE, Teatro Silvio Pellico (SUSPENDED)
7th MARCH 2020 – Sfere Sonore / ARNESANO, Palazzo Marchesale (SUSPENDED)
29th GENUARY 2020  – ACM-Trieste / TRIESTE, Teatro Miela
26th GENUARY 2020  – Società Umanitaria / MILAN, Salone degli affreschi
Trio Chagall's repertoire spans four centuries of music: from Haydn to Shostakovich, from Beethoven to Schubert, Brahms and Ravel, without missing contemporary pieces.
Enrico Bronzi said about them: "The vastity of the repertoire, which includes many different composers interpreted with naturalness, completes the table from which Trio Chagall will develop its career".

"A completely different atmosphere was felt during the Trio n.2 in E minor op.67 by Dmitri Shostakovich where one enters a world marked by strong sound-driven emotions, by the use of rough musical themes, but also by spaces filled with a Bach-influenced rigor. Pages filled with evocations and sound stimuli, such as the Jewish theme in the final movement, performed by Trio Chagall with an infectious percussive verve that the audience rewarded with a heartfelt applause for a very young Trio, but already very mature in the search of refined interpretative solutions".
Archimagazine
"[Trio Chagall's members] strike with a neat playing style, linear and clean, totally free from any kind of exaggeration or artifice, managing with ease both purity of thought and action, not at all intimidated by the technical and expressive complexity. […] Trio Chagall's musicians have thus proven themselves to be young people able to combine, without any haughtiness, a certain artistic and professional accuracy with a deep ethical commitment; they are part of a beautiful generation, a generation that we older people have a duty to support and guide into the future, because they fully deserve it".
Operaclick



—
Management
Giovanna Losco Artist & Project Manager
mob. 0039 348 6418067